Matriculation Ceremony 2022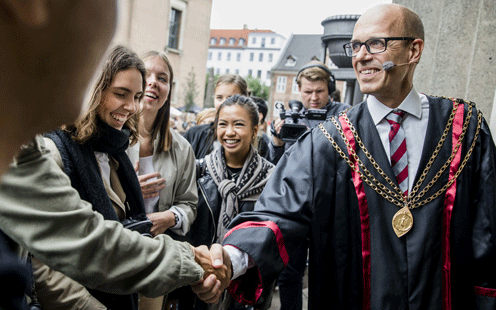 The official welcome for you who are a new student
Every year, the University of Copenhagen welcomes all new students in connection with the study start. This happens at the Matriculation Ceremony, which is the University's official welcome for the new students. 
When and where:  26 August 2022 from 14:00 - 17:00

Remember to get your ticket
You must have a ticket to participate. You get the ticket by registering for the Matriculation via a link, which you will receive at the beginning of August.
At the Matriculation Ceremony, you can meet the rector and other new students, and the University of Copenhagen will arrange for some great music for the festive event. The full programme will be published in July.
We are looking forward to welcoming you.
For information about the Matriculation Ceremony:
Communication
Nørregade 10, PO BOX 2177
DK-1017 Copenhagen K Denmark
E-mail: immatrikulationsfest@adm.ku.dk 
Tel: +45 3532 2097
See highligts from the Matriculation Ceremony  2021 here: